Today was Skeeter's due date.
She spent 3 weeks & 4 days in the NICU.
While I try to see the positive in every situation, I cannot deny that this was a terrifying time as a mother. Every time I had to leave her, a piece of my heart broke. I am still having trouble properly putting into words what it was like.
It was the support of friends, family & fellow NICU moms that helped me through. So many people that I didn't even know reached out to me and offered advice and support- I couldn't be more grateful for each one.
I am so glad to have her home & healthy now. While I was reflecting upon our time in NICU, I realized that there are more NICU moms out there that need what I had. That's when I decided to host a one time link up for current & former NICU moms to offer advice.
The link up will take place Tuesday, May 22.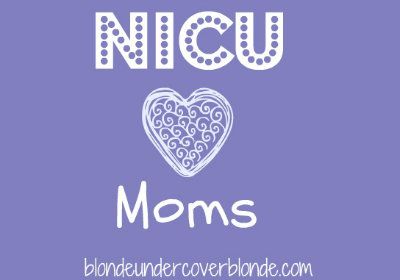 Please spread the word to anyone who might be able to join in or those who may need the help.
And if you're a current NICU mom, please ask questions- that's what this is for.
For those linking up, here's some information you may want to include:
Your baby's gestation age at birth.
How long you were in
NICU
.
Why you were in
NICU
(multiples, preclampsia, etc).
Any obstacles you had to overcome.
And of course, how you coped (any tips, support groups, etc).
Any other information you might think is helpful.