I have a lot of fun stuff to share with you today...first a review, then an interview with the author herself, and a giveaway!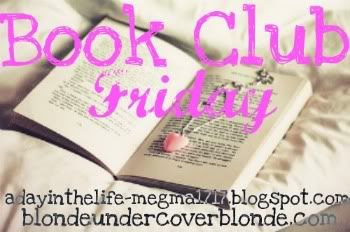 To link up, all you have to do is grab the button (above) and link up (below)!
You can write about any book you want.
This week I'm sharing...
Here's the synopsis:
Something is seriously off in the Watkins home. And Julie Seagle, college freshman, small-town Ohio transplant, and the newest resident of this Boston house, is determined to get to the bottom of it.

When Julie's off-campus housing falls through, her mother's old college roommate, Erin Watkins, invites her to move in. The parents, Erin and Roger, are welcoming, but emotionally distant and academically driven to eccentric extremes. The middle child, Matt, is an MIT tech geek with a sweet side ... and the social skills of a spool of USB cable. The youngest, Celeste, is a frighteningly bright but freakishly fastidious 13-year-old who hauls around a life-sized cardboard cutout of her oldest brother almost everywhere she goes.

And there's that oldest brother, Finn: funny, gorgeous, smart, sensitive, almost emotionally available. Geographically? Definitely unavailable. That's because Finn is traveling the world and surfacing only for random Facebook chats, e-mails, and status updates. Before long, through late-night exchanges of disembodied text, he begins to stir something tender and silly and maybe even a little bit sexy in Julie's suddenly lonesome soul.

To Julie, the emotionally scrambled members of the Watkins family add up to something that ... well ... doesn't quite add up. Not until she forces a buried secret to the surface, eliciting a dramatic confrontation that threatens to tear the fragile Watkins family apart, does she get her answer.
-
via
I was thrilled to receive this book from the author to review. I tend to tear through books, so I expected it to be a quick read, and in a sense it was--but only because I couldn't put it down!
The storyline always kept me enthralled. And just when I thought I knew where it was going- BAM! There's a twist I never saw coming. I laughed, I cried, and at times I was irritated with the characters. I actually found myself sad when I finished the book. Not because the ending wasn't perfect-it was. But because I just couldn't get enough.
This is one of the best books I've read in a long time. Jessica Park has gained a loyal reader.
I am giving it 5 stars out of 5.
Disclaimer: I received a free copy of this book in return for my honest, unbiased review. I received no compensation whatsoever.
___________________________________________________________________________________________________________
Interview
I was given the opportunity to ask Jessica Park a few questions!
I have to say that she is
hilarious
! And I've loved talking with her some on Twitter.
This is such an original story. What inspired you to write it? Did you draw at all from personal experiences?
It's Rick Springfield's fault. Look, I have this slight interest in Rick Springfield (
that's another story
), and one time when I was doing a Google search for old photos of Rick, I came across the most fabulously crazy blog. Some guy had purchased a Flat Rick and put together a video documenting Flat Rick's various outings: a trip to Starbucks, mowing the lawn, riding in the car with his flat face hanging out the window... It was obviously the best video ever made. But what made it really spectacular was the fact that the video didn't come off entirely as a joke. There was a bit of a serious edge to the video, as though Flat Rick's owner was really just sharing a straight-forward day in the life of his cardboard cutout pal. (For the life of me, I cannot find this blog and video again. I don't know why I didn't bookmark it, so if anyone locates it, please send it my way. I am desperate to see this video again.)
As a normal(ish) person, I found this odd. As a writer, I found this fantastically exciting... I had a few ideas for a book I wanted to write, but it wasn't coming together. Until I started thinking: What if a character had a Flat Somebody? What if this Flat Somebody was carted around everywhere? Why would a person have a Flat Somebody? And then the what-ifs kept flowing... The challenge then becomes figuring out how to work such a bizarre concept into a meaningful story. And I like a challenge.
Are any of your other books similar to Flat Out Love? Can I expect to laugh and cry as much with them?
Well, the Gourmet Girl mysteries are a very different genre. There is definitely plenty of humor and romance in those, but they're lighter, fun reads. RELATIVELY FAMOUS is what I call my "transitional" book, where I was finding my footing as a writer, and it's closer to FLAT-OUT LOVE than my mysteries. It's about a teenage girl, Dani, who finds out that her father is a B-list Hollywood action star, and she spends the summer with him. So it's set in a fairly superficial world, but that makes a great backdrop for the more intense, emotional storylines that have to do with their relationship. I also really love the romance between the father, Mark, and his girlfriend, Olivia. It's really quite sweet. Mark is a very superficial, Hollywood-loving, materialistic guy in the beginning, but through the romance with Olivia, he starts to remember the man that he used to be before he fell so thoroughly in love with fame. And then there is the process of watching Mark and his daughter Dani discover and define their relationship. It's sort of hard not to fall in love with him as we watch his character deepen. Seeing him learn what it actually means to be a father is pretty awesome. And then there is a lovely romance between Dani and… Well, I can't tell you that! I don't want to ruin anything!
Who was your favorite character? Did you find yourself growing attached to any of the characters?
I'm torn between Matt and Celeste. Both of those characters are complicated and had such mysterious sides to them. Celeste is so clearly a challenging girl. I mean the mere fact that she carts around a life-size cardboard cutout of her brother tells you that something is really off. But she's so endearing to me as well. I love that although she is obviously very quirky and highly regimented, she has a tremendous need to connect with others. For someone so socially isolated, she really charms Julie (and me).
And Matt… Yeah, I love Matt. He's impossibly difficult much of the time, pretty awkward socially, intellectually superior to nearly everyone, and so hard to read emotionally. Yet I find him sort of intoxicating. Because he's so guarded, it makes the moments that he does open up all the more powerful and meaningful.
So both Matt and Celeste are outwardly a bit odd, they share the same power to love incredibly deeply. And that's why I adore them.

Without giving the story away for those who haven't read it yet-- if you had to write one more chapter for this book, who or what would it center on?
Actually, I've thought about doing a supplement to Flat-Out Love with a handful of prequel chapters. I'd love to do one where the reader gets to see Celeste order Flat Finn, one where Matt and Finn go hiking together, etc. I might also like to do a few chapters from Matt's perspectives; take scenes from the book and tell them through Matt's eyes. I'm not sure if people would be interested in that, but I miss all of my characters! It's very strange (and wonderfully fun) how well I know them.

Will you give us one final Facebook status update?
My annoyingly smart and witty friend, Dave, contributed most of the status updates for Flat-Out Love, but I will attempt to be funny on my own and share a recent update from my own Facebook page:
Jessica Park
I'm pretty sure "the cat's got your tongue" is a phrase that is rooted in the porn industry.
If anyone still wants to follow me after that one, I'm glued to Facebook and tend to have fits of updating my status, demonstrating little self-control and even less ability to filter my thoughts. Come join me!
___________________________________________________________________________________________________________