I'm loving
that we actually got some rain this week! And I'm praying for some more.
I'm loving
that the cute dog that once chewed
everything
when left unattended (including my Guess sandals)- successfully spent the day inside, uncrated...ALL DAY yesterday!
My baby's growing up.
I'm loving
that the next H-Town Bloggers meetup is this weekend!
I'm loving
the gorgeous engagement pictures I just posted on my work
blog
.
I'm loving
that I'm guest posting for the lovely Molly at
The Fuschia News
today...My post includes a story of the time I tried to run my sister over with a golf cart...
okay, that may not have been an isolated event
...Check it out!
I'm loving
reading all of the Book Club Friday reviews.
Are you linking up this week?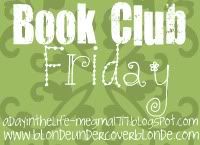 I'm loving
, as always, this handsome man. Yesterday, he was concerned I didn't leave enough water for the animals, since all 4 would be inside all day. So, he lifted the toilet seat. Creative, yet questionable...
Stolen from his college days... <3