Before I start Book Club Friday, I have an exciting announcement!
No, I'm not pregnant...
Okay, now for Book Club Friday!!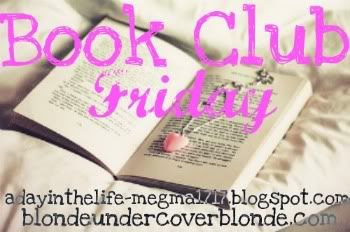 To link up, all you have to do is grab the button (above) and link up (below)!
You can write about any book you want.
This week I'm sharing...
Here's the description:
No one knows wedding cakes better than the owner of Lauren's Luscious Licks, Boston's hottest cake boutique. Lauren Gallagher is a pro when it comes to helping brides and grooms pick out the perfect Big Day dessert. But what her clients don't know is that her talent doesn't end there. Because while the happy couple is choosing between buttercream and royal icing, Lauren is predicting which relationships will last, and which marriages will crumble, simply by watching them pick a cake. Her latest prediction, however, is anything but sweet. Unless her marital Magic Eight Ball is off, one of her best friends is about to tie the knot with Mr. Absolutely All Wrong.
Lauren's got to save her friend, and prove her cake theory is true, even if it means taking her predictive powers public. All of a sudden it seems everyone wants to learn Lauren's secret for relationship success, but is predicting a sure thing the formula for true love, or a recipe for disaster?

And while Lauren's trying to prevent a potential mismatch, she's got her own problems - involving an ex-boyfriend, his new fiancee, and the cake of Lauren's dreams.
I really enjoyed reading this book. It's a quick read, great for the summer.
What are you reading?