It's that time of the week again!!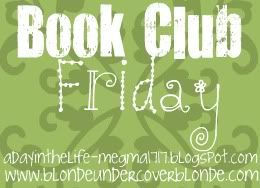 To link up, all you have to do is grab the button (above) and link up (below)!
You can write about any book you want.
This week I'm sharing...
Disclaimer: This is NOT an instruction booklet. I know it could be misleading, given the title. But if it WERE an instructional, I'd already be carrying Bradley Cooper's baby.
Umm...sorry, hubby...
Here's the synopsis:
26-year-old Claire Reilly is on top of her game as one of the youngest celebrity reporters and editors in the business. At Mod magazine, she is a consummate professional, interviewing dreamy Hollywood hunks and staying on top of every story. Unfortunately, her live-in boyfriend seems intent on setting the world's record for celibacy, yet she finds herself penning articles like -Ten Reasons You Should Have a One-Night Stand. When Claire lands the plum assignment of interviewing Cole Brannon, Hollywood's #1 hottie, she knows better than to mix business with pleasure, but the next morning, she finds herself in Cole's bed...without her clothes. After the tabloids pick up the story, Claire's life is turned upside down. In struggling to regain her reputation, she'll learn a great deal about herself...and that you shouldn't always believe everything you read.
-via
This is a great chick lit book. I really enjoyed the fact that Claire is your every day girl-next-door and Cole turns out to be pretty level headed as well. So the characters are fairly relateable, even though there's zero chance of paparazzi chasing me anytime soon.