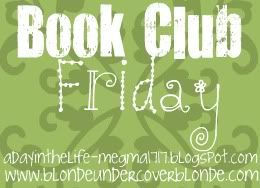 To link up, all you have to do is grab the button (above) and link up (below)!
You can write about any book you want.
This week I'm sharing...
Here's the synopsis:
Would you call Alice Teakle a stalker? Or just someone with an, um, healthy obsession with golden girl Polly Linley Dawson? No one much notices Alice: not her boss, not the neighbors, not even her Mother.
Besides, everyone follows Polly: her business selling high-end lingerie you can imagine only her elegant self wearing, her all-over-the-social-pages marriage to movie director Humphrey Dawson, her chic looks, her wardrobe. Alice just follows her a little more….closely.
And when she loses her job and starts to follow Polly Dawson one Manhattan autumn afternoon, Alice stumbles on the object of her attention sprawled dead on the floor of a boutique. Alice is forced to become truly beneath anyone's notice. Invisible, in fact. Because she's accused of murder.
But can another obsession help save Alice with the fallout? Charlie is Alice's longtime unattainable crush. He might be able to help her out of the mess she's in…in return for a favor or two, that is. And how will Alice find out if Charlie is really the man Alice thinks he is?
-via
I really enjoyed reading Following Polly. I tried to put myself in her position and decide how I would handle being falsely accused and on the run.
And if we're being honest, I would handle it very badly. Ha.
It was a very entertaining book, because it was both suspenseful and comedic.
Overall, I would rate this 5 out of 5 stars.