It's that time of the week again!!
I just want to say a HUGE thank you to everyone who linked up last week.
I loved reading all of the recommendations.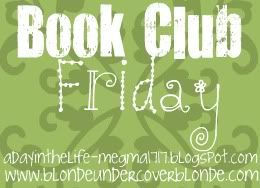 To link up, all you have to do is grab the button (above) and link up (below)!
You can write about any book you want.
This week I read...
=
Compact With The Devil is a follow up to Bethany Maines' Bulletproof Mascara.
I reviewed Bulletproof Mascara ages ago. You can read it
here
.
I strongly recommend you read Bulletproof Mascara before you read Compact With The Devil.
Nikki Lanier, my favorite crime fighting female, takes on the world while wearing the latest fashion and expertly applied makeup. In Compact With The Devil, Nikki is sent to protect rock star Kit Masters from a terrorist with a score to settle. Due to various mishaps, she is left to do her job without her usual intel and standard issue Carrie Mae equipment. She also finds herself somewhat distracted from her job, both by her recent breakup with Z'ev, and by the blue eyes of Kit Masters himself.
I loved Compact With The Devil. I found myself panicking a little every time Nikki was in a bind and rooting for her every time she kicked some bad guy booty. Bethany Maines has definitely earned a loyal reader. I cannot wait for her to release more crime fighting novels involving Nikki & the Carrie Mae Foundation.
This book gets 5 stars out of 5.
Today is the last day to win a Kindle from Katie!
P.S. If you're reading this, I am already enjoying Memorial Day weekend, so I promise I will read all of your reviews when I return to my computer. Please take some time this weekend and remember the men and women who have so bravely fought for our country.