It's Book Club Friday!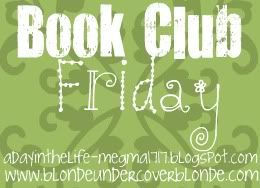 To join in, all you have to do, is grab the button (above) and link up (below)!
You can share about any book you want! So it's more of a recommendation club.
This week, I read...
The book revolves around four characters:
Helene lives the high life as the wife of a senator. She wines and dines with the best of them. But her life isn't all that it seems.
Lorna is a shopaholic living on a waitress' salary. She has run herself into debt and turns to other options to save money.
Sandra is an agoraphobic woman who works as a questionable phone operator (think $2.99/minute).
Joss is a nanny who works for a psychotic mother that wants nothing to do with her children or home life.
The four women are connected by an addiction to designer shoes and the same size feet (7 1/2). They join up to seek solace from their every day lives and find more than they ever bargained for.
Overall, I would rate this book 2 out of 5 stars. Describing the book, it sounds like it'd be a lot more entertaining than it actually was. I think because the chapters jumped between characters, it was difficult to really connect and gain interest.
I am actually VERY excited for next week's read (currently on the side of my blog page).
By the way, Katie is giving away a Kindle today!!
Go enter here.
What did you read this week?